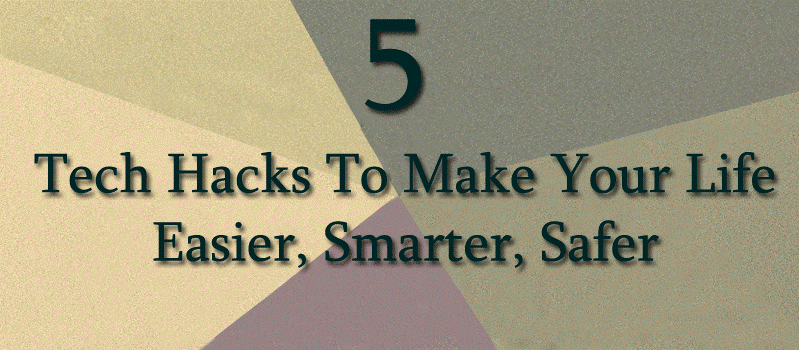 Technology is ubiquitous and it is vital to make things easier. From work life to personal life, its presence is not only unavoidable but you in fact yearn for it. The new inventions are blessing the human world with new enhancements in mobiles, home appliances, electronic products etc. This increases the thirst to extend its use to make daily routine activities easier.
Here is a list of tech hacks that can make sure that your daily routine things become more convenient.
1.   Find your misplaced phone when it is on silent mode
Oh! That is actually a task. Those last moments when you have to rush to the office, for shopping, to visit a friend or anything else and your phone is not there. Worst is, it is on silent mode. It feels so helpless. But there are ways that can help you find your phone immediately.
For android users – Use Google device manager from some other device for instance tablet or laptop. Send an alert to your phone. It will bypass phone's silent setting and the phone will keep ringing until you find it.
For iPhone users – Same thing can be done if you log in to iCloud on a different device. Select 'Find My Phone' option and then select 'play sound' to make your iPhone ring.
2.   Watch YouTube videos on big screen
Watching TV shows and movies on YouTube is handy but not much interesting as it is on a small screen. However, with the help of 'YouTube TV' you can do that. It makes watching video on a big screen, possible as well as enjoyable. For cord cutters, it is a big relief as convenience and entertainment come collectively with YouTube TV. It saves more money and also provides liberty to watch whatever you want without paying bulky amount for channels on subscription.
3.   Make a security camera from your old smartphone
The old phone that plays the role of junk in your drawer can have a graceful use now. Use it to keep an eye on your home as a security camera. Not bad! Right? For this, download 'Manything' on your current smart phone and also on the old one. It provides offsite cloud video storage to add to your professional CCTV camera. Through this, it is possible to monitor home while you are out. Most importantly, it is free of cost and there are countless online tutorials to tell how to do it perfectly. Use them and make your home safe.
4.   Boost your Wi-Fi signal
Why to spend money on a Wi-Fi extender to get strong internet signals? A cheaper way is present. Bring an aluminium foil and tear off a small, rectangular piece of it. Now fold the edges and create a frame and bend the foil to make a slightly curved shape. Now place it behind the Wi-Fi router's antennae. It enhances and improves signals as well as download speed becomes better.
5.   Prevent dangerous urge of texting while driving
Not to mention how dangerous it can be to stay busy in texting while driving a vehicle. Do you also have that same bad habit? It is not good, many accidents have occurred due to this but it should come to an end now. Several apps can help you do that.  For instance – LifeSaver, OneTap apps can detect when a car is in motion and makes it impossible to send a message or answer calls until the vehicle doesn't stop completely. Another app is Glympse that automatically answers calls and texts with a canned response. It allows people who are waiting for you to see your location and know the estimated time of your arrival.
Conclusion
You can consider to apply not only one but all the above hacks. Money is not an issue as all of these have no or a low cost. Just in case, you feel the need to spend some money then borrow a small amount. There are several options online that can help despite your bad credit. For instance – the installment loans for bad credit by direct lenders that facilitate small funds on instant approval decision.
Technology improves constructiveness of daily life but some hacks can improve its own productivity. Apply them and make life easy, easier and easiest.
Description – Some daily tech hacks can make your daily routine labour saving and trouble-free. After all, this is what technology exists for.