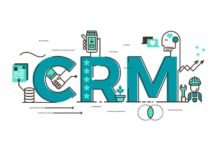 Post-it Notes, email inboxes, random scraps of paper—when it comes to managing customer relationships, how do you make sure nothing falls through the cracks? For many small business owners, the idea of implementing a CRM (customer relationship management) system can be incredibly overwhelming. First there's the perception that it's probably going to cost an arm and two legs. Then there's the challenge of finding the time to add "one more thing" to an ever-growing list of daily tasks.
When done right, a CRM system can be an incredibly powerful tool. In one centralized place, you can manage all of your touchpoints with current and prospective customers, capture their unique preferences, and use that information to really build customer loyalty and generate more business. Best of all, you can do it without breaking the bank or spending countless hours trying to figure out how to set everything up. Here are 5 affordable CRM solutions for small businesses based on price, available features, and ease of use. Product reviews are conducted independently, but we sometimes make money when you click on links.
1. HUBSPOT FREE CRM
When it comes to affordable CRM solutions, it doesn't get any more affordable than free—and that's what HubSpot's free CRM delivers. But it's not just the price that makes it a really attractive option for small business owners. With an intuitive and easy-to-use interface, the platform is a lot more user friendly—especially for those who are new to CRM.
HubSpot Free CRM is packed with a ton of free features including contact management, Gmail and Outlook integration, email tracking, meeting scheduling, and live chat.
Best of all, you can view your entire sales pipeline on a clean, visual dashboard. I was just reviewing the sales pipeline for a local client and was amazed at how easily they were able to track the status of their leads and conversions in real time.If you're looking for a little more functionality than what's included with HubSpot Free CRM, you can also save quite a bit with their Starter CRM Suite Bundle. You get Marketing Hub, Sales Hub, Service Hub, and Operations Hub all for only $75/month (compared to $50 each).
Top Features:
Visual reporting dashboard
Propsect tracking
Email tracking & notifications
Meeting schedling
Gmail & Outlook integration
Live chat and chatbots
Pricing: Free for unlimited users. Paid plans starting at $50 per month.
2. INSIGHTLY
Used by over 350,000 small businesses and freelancers in 100 countries, insightly is a simple and powerful CRM solution designed specifically for small businesses. With their system, you can quickly and easily access information about a contact including their background, email history, and any important dates.
insightly also offers seamless integration with Gmail, Google Drive, Outlook 2013, Office 365 and social media accounts which means you can capture a snapshot of conversations with your customers.
Top Features:
Lead management
Mass emailing
Email templates
Web to lead capture
I've been taking insightly for a test drive. So far I really like the clean interface, terminology that's easy to understand (even if you're a beginner with CRM), and how easy it was to set everything up initially. One of the biggest hassels when implementing a CRM system for the first time is adding another task to your day. So far I've found insightly to be really easy to use.
Pricing: FREE for up to 2 users. Paid plans range from $29-$99 per user per month.
3. NIMBLE
As their name implies, Nimble is all about helping businesses find smart and simple ways to track and nurture contacts with current and prospective customers.
Similar to other solutions, they provide all of the functionality you need to manage information and relationships across multiple touchpoints. Their system also automatically identifies social media profiles of contacts on Facebook, LinkedIn, and Twitter which means you don't have to go searching for them.
Top Features:
Contact management
Email templates
Activity tracking
Call logging
Deal pipeline management
Pricing: Simple. One plan. $19 per month per user. Unlimited number of customer contacts.
4. ZOHO CRM
Zoho CRM gives you all of the tools and resources you need to capture leads from your website, track your sales activity, manage your email marketing, and access customer information without having to scroll or search.
Drag and drop customization means you can easily make changes which is huge if you're not tech savvy or don't have a dedicated IT person on staff. Zoho CRM works with Gmail and Google Docs, Contacts, Calendar and Tasks.
Top Features:
Prioritize prospects with positive or negative scores
Build custom pipelines
Send bulk emails
Sales forecasting
Pricing: Paid plans range from $14 – $52 per user per month.
5. VTIGER
Vtiger is a cloud-based CRM solution built on an open source foundation for small- and medium-sized businesses.
Using their system, you can easily manage interactions with customers and leads, build and send emails, assign tasks to different members of your team, and provide customers with a personalized web portal where they can submit service requests. Vtiger integrates with MailChimp, Microsoft Office, Microsoft Outlook, and Gmail among others.
Top Features:
Pipeline management
Workflow automation
Meeting scheduling
Lead scoring
Calendar and task management
Pricing: $30 per month per user.
MANAGING YOUR CUSTOMER RELATIONSHIPS
Whether you're looking to grow your team, or your customer base, or both–the right CRM solution can help you manage all of your relationships from one place. And that means you'll be able to save time and improve your customer experience.