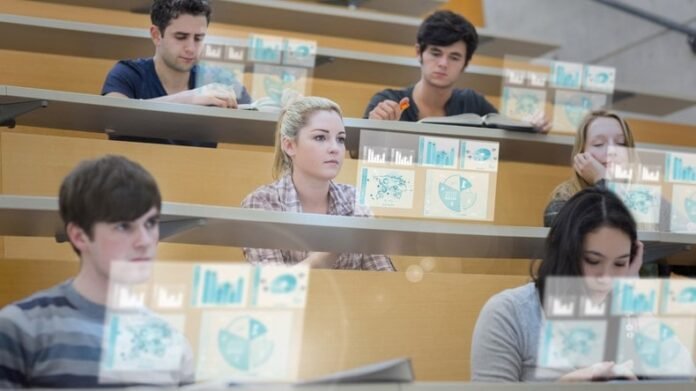 The future is artificial intelligence. In combination with the neural networks, high-speed Internet, and nanotechnologies, it brings fantastic results. The modern AI can be a self-learning system, and it can also teach people.
It sounds unbelievable, yet there is even an AI-driven resume generator. For now, it cannot replace a job-seeker or a professional writer from a resume fixing company, such as Resumeperk.com, providing services in the sphere of online resume writing service; its writers and are still ones of the best professionals in this field.
However, the opportunities of artificial intelligence are unlimited. Thus, it is successfully used in education. In this post, specialists from Resumeperk.com speculate on the role of AI in teaching students.
AI technologies: Making the student future better
The mission of the modern educational system is to prepare young people for the realities of adult life. And the future realities are definitely about artificial intelligence. So why not start discovering this science at college or university?
When pupils encounter artificial intelligence, they understand its algorithms. They get real experience working with AI, and AI, in turn, makes their study process easier, faster, and more exciting. Here are some examples.
According to the review from professionals, CENTURY is one of the best modern AI projects in the educational sphere.
Invented to help teachers and professors, it changes the traditional way of education. The value of this system lies in the ability to collect data for further personalization of the study process. In practice, it boils down to the following functions:
helps to detect knowledge gaps;
analyzes the progress of every learner;
calculates how long it takes for a short term memory to become a long term one;
reveals students talents and skills;
gives recommendations on the speed of the learning process for every student;
identifies trends in the consumption of knowledge;
adapts lessons to individual peculiarities of every student.
David Kellermann's learning platform
This Australian man has managed to combine engineering and pedagogical talents to come up with a unique AI-driven system based on Microsoft Teams technology. More than sixty thousand of his students at the University of New South Wales (Sydney) have already appreciated the benefits of this learning platform
One can ask questions in the group chat and get immediate answers. A chatbot analyzes requests and gives relevant replies on:
sources of learning materials,
where to find data for the workshop,
the topic of the lecture and its plan,
where to search for additional information for college projects, etc.
The creator of this learning platform believes that his invention is quite useful for both students and professors. Round-the-clock access to information and fast replies improve the communication system of the university. Indeed, David Kellermann's platform has excluded misunderstandings and boosted the speed of decision making. Due to it, the number of students dropping out of university has decreased.
Jill Watson
This AI is one of the first successful analogs to a professor's assistant. Its story started at Georgia Tech in 2016 when Ashok Goel decided to implement this system for the study process. The desire to get rid of endless students' questions was one of the reasons for this invention.
Jill had been helping students for several months. Interestingly, young people thought that they worked with a human. They did not realize that they discussed projects on the chat with AI-based on IBM Watson. Probably, it is because Jill used slang words.
Jill Watson's main tasks were to:
tell students about upcoming deadlines,
stimulate discussions,
ask thought-provoking questions to learners,
answer students' questions.
Chatbots for campuses
Such online chats are used by modern colleges and universities to give maximum helpful information to students and applicants.
A chatbot is a convenient service. One can ask questions on the schedule, campus services, scholarship, exams, etc. It is especially helpful to freshmen. With a chatbot, they can easily find a necessary parking, a lecture hall, or any other object on campus. In addition, this AI system can receive simple applications and connect a user with a professor.
Contribution of AI in the educational process
Saving time on monitoring students' attainments
The main goal of the professor is to reveal the individual educational trajectory of every student and adjust the study process in accordance with it. This is how one can determine and use the maximum potential of the learner.
Still, imagine that you need to pay attention to about thirty students in the class. Analyzing their knowledge level is a labor-intensive and time-consuming task. Besides, attainments are dynamically changing.
Artificial intelligence solves this issue perfectly. It saves professors' time on monitoring and checking students' level of knowledge by processing big data. For instance, AI copes fast with analyzing test results.
Speeding up routine processes
An online resume fixing service company Resumeperk.com has analyzed educators' expectations concerning the teaching profession. More than 90% of respondents said that they liked their jobs. Yet all of them would like to minimize the time spent on routine tasks such as planning lectures and making reports. The thing is such "bureaucratic" duties exhaust professors and even cause depression. Luckily, cutting-edge AI algorithms enable educators to cope with these tasks more effectively.
The limits of modern AI in education
Nowadays, AI cannot fully understand human emotions and feelings. That is why the individual approach that takes into account all the nuances is impossible.
So-called "pedagogical intuition" is still beyond the capacity of AI. It deals with subtle things, which cannot be programmed. For instance, it is challenging to explain the art of writing to robots. So AI, in turn, cannot evaluate the efforts of philologists and future professional writers.
It is good that today an educator can spend more time on explaining philosophical issues and interesting details about his/her subject. Having delegated time-consuming evaluation functions to AI, the professor can share unique ideas and hints with students.
Our verdict
It is too early to tell that AI can replace professors. While these technologies make the study process fast and comprehensive, teachers can intuitively feel the mood of the students, use a joke to break the ice, inspire and encourage them in difficult situations. When it deals with emotions, nothing can be better than a human attitude. Besides, the human factor and expert evaluation are still decisive.
The bottom line
AI is a progressive tool for teaching. Professionals from Resumeperk.com recommend using the synergistic effect from the combination of these technologies and pedagogical talents. Importantly, machines must be led by a human and not vice versa. Herein lies the sense of the effective study process and raising the man of the future.