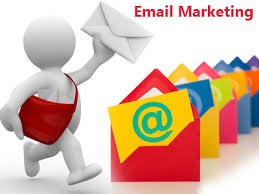 Hi friends today I will place very interesting topic Email Marketing. Many business persons get confusion and trouble on using email marketing. Many of them don't know the uses of email marketing how email marketing is helpful to business. Today I will explain why email marketing, what is email marketing, how does email marketing work, benefits of email marketing. After reading those topics you definitely get clear clarity on this topic. And you have a business you are definitely using this marketing strategies otherwise you are suggest for your business friend to use this marketing strategy.
Why email marketing?-Reasons to select email marketing
Present we are having so many digital marketing channels in those selecting best one is difficult to us. Every channels had unique identity in this world we are not saying this is best among all. Only we can do selecting suitable channel for our business depending on your requirement.
Popular Network channels are SMS Marketing, Social Media Marketing, Inbound Marketing, Email Marketing, and ORM etc. All are top 10 marketing channels in around those one who are good in performing better to get new clients and maintaining relationship with existed clients with affordable price. I prefer email marketing for my business because I know the usage of email marketing and I will get the benefits through email marketing. The main reasons to select email marketing among all because it is reliable, comfortable, we are easily build our creditability, easily generate calls from customers, maintaining strengthen relationships, boost your sales easily, ability to reach customers on any devices, and increasing web traffic etc.
What is Email Marketing?
Email marketing is very helpful to create and get and strengthen the quality of relations with the audience, and helpful to increase the repeat purchases, and providing a facility place new offers and knowing audience opinion.
Email marketing is a direct communication marketing we are communication with customer through electronic mail (email). We are sending email to bulk customers for maintain relationship with existed customers and have a interest to interact with new customers this email marketing can be done for sending ads, placing offers, reporting issues, placing company overview, and building trust.
How does email marketing work?
Present generation follow up the latest technologies and creating trends. They are interestingly participating in all social media networks like face book, twitter, Google+, LinkedIn, YouTube, and pinterest etc. Many of them maintaining all networks but they are change them instantly can't maintain these account permanently but coming to email they are hassle to change. The reason? Email is the best and most reliable way to communicate.
Email Marketing Features
Features are very helpful to say exactly what it is? How it can be benefitable compare to others?
Here I can identify some features of email marketing these we are calling email marketing advantages/benefits.
1. Done Direct Communication with Customers.
2. Checking status about delivering messages.
3. Having a facility to see how many members are clicked and delete and reengage.
4. Placing ads with no cost.
5. Maintain relationship with existence customers
6. Forming new customer cycle.
7. No setup charges required.
8. Best selling and promotion platform.
9. Mediators are not required for promote our brand image.
10. Easy to create
11. Easy to maintain
12. Maintaining customers database
13. Help to building trust.
14. Offering discount for customers.
15. Sending wishes.
16. Robust
17. Reliable
18. Flexible
19. Affordable price.
20. Knowing technology.
Finally want I am saying is Email marketing cheapest in cost and more profitable in business so try for your business and get instant traffic /result. I always update the latest updates of email marketing in future posts, thanks for reading my post and you feel it is helpful please share to your friends through social media networks and I am doing any mistake or you want to give any suggestions please comment on comment box.