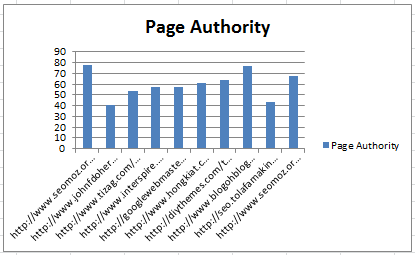 Hi friends today I would like to write an article on How to increase our Website page authority. Every blog developer mainly concentrated things are page authority and domain authority those are very critical to get from Google. Don't worry my dear friends today I will place some strategies to get high page authority and Domain authority. First we are discussing about how to increase page authority in next post I will discussed about How to increase domain authority.
How to Improve Page Authority
Page authority
Page authority is the best for every website if you have good page authority it means your website have good analytics all search engines like Google, Bing, Yahoo, and MSN etc. For increasing page authority we are learning main what is page authority? How do you increase it? What are the strategies?
What is Page authority?
Page authority is some score it can be given for websites depending on their performance on all search engines.
How to increase it?
We are increasing page authority by applying white hat and gray hat techniques those are very helpful to increase website. Through white hat strategy we can't getting instantly but definitely we get the result after 2-3 months the result will applicable lifelong. Through gray hat we are getting instant result.
What are the strategies?
I suggested strategies are
1. High Quality content
Everyone doing one mistake they are not spend some time for writing post on their website they are placing duplicate content means copy the content from Google and place in his website. It's not good thing Google always gives more priority for who are placing unique content in their blog. So, try to place high quality content that definitely increase page authority. Try to place the content doesn't go under 1000 words total.
2. High Quality Backlinks
Getting High Quality back links are very important for every blogger. But the critical thing is how to get we are getting high quality back links the first doing thing is guest blogging. Someone feels it is very critical if you are unable do guest blogging try to do article posting on high page authority websites like quora, reddit, wikihow, and yahoo qns and ans etc. Guest blogging and article posting those are helpful to get quality backlinks for your blog. Article posting not only gives back links for you it also gives some brand image in these websites.
3. Good internal backlink structure
Writing article is not a great thing user friendly article is the great thing as a blogger try to place user friendly article and try decrease user burden in reading article what I am saying is when the user read an article on your blog you are try to place related links on that post these internal links are helpful redirect user to another post on your blog. Don't place more internal links place limited internal links 2 or 3 or 4. Some times more is dangerous and have a possibility to place in spam so try to place 3 only.
4. social Media Engagement
Here we are main concentrated strategy is social media engagement now the world is digital world. Every one follow the social media networks and the main thing in social media networks are like and share. So through like and share we are easily get more traffic and brand image. We are having social media networks are Facebook, Twitter, Google+, LinkedIn, Myspace, pinterest, and tumbler etc. For those are follow some rule in post sharing especially facebook. Facebook is the popular network in the works it follow the strategies are
You are place any post on Facebook the post engagement is very important. Try to place attractive page title and content.
Try to get more page like and shares and comments. You are post getting those it means you are post are having unique content and user friendly nature that are helpful to place no.1 in all search engines.
Another important thing is don't place same post several time that is very dangerous and that treated as spam post.
5. Frequent updates
Frequent updation tells about your interest on Blogger. So compulsory follow the following things.
I. Write fresh and engaging content thatis very helpful to place No.1 position in google.
II. Updating is more important thing so please update your website once or twice in a week.
III. You are thinking my website is business how to update content.
Don't worry try to maintain blog on your site and place fresh and new content on that blog. Whenever you update the content /write new one try to place in all social media accounts.
The last thing but not least concentrate on page loading time. It is very important in increasing page authority. Your website page loading is good you definitely get good page authority.
Some Old Techniques To Improve Page Authority:
Don't neglect old techniques because "Old Is Gold". So, Try and apply old techniques also. Some old techniques that are gives page authority not speedly but after long time it definitely helpful to increase your page authority.
i. Try to place local and high quality directories submission.
ii. Done professional article marketing.
iii. Try to place relevant quality forums posting.
iv. Engagement Blog comments on high authority sites.
v. Try to place your article on questions and answers pages.
vi. Quality Press Release submissions.
vii. Doing quality Social Book Marking submissions.