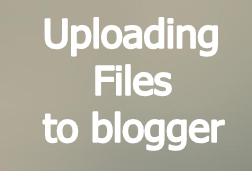 You are reading this post it means you are looking for How to embed PDF, Docs, or XLTS files to your Blogger. Today I will clarify I will give a solution for your problem. Blogger Default Contains the following Image insertion, Video insertion, and Add Link. But we are not having PDF, Docs insertion Option in Blogger. So, for inserting DOCS purpose we are using third party servers. Here we don't need to depending on third party Server Just use Google drive and Upload your Files with free of cost. Below I place step by step procedure for How to Embed PDF, DOCS, and XLS files to Blogger through Google Drive.
Step by step procedure for embed PDF, Word and XSL files in Blogger
Just Signing into your Google Drive account with your username and Password.
After Signing Just Upload your wanted file.
We are Uploading the file because embed the file code and place in Blogger so we are learning how to embed source code from drive.
Depending on file we have options PDF and Word Contains Same procedure and XSL File has different procedure.
Getting Code for PDF or Word File
After Completions of Uploading PDF or Word File Next Click on Link it will open. The opened file displaying the options are Opening with Lumin PDF, PDF Mergy Etc (Suggest Third Party URLs).Right Side of the Menu you contain Share Button etc. Click on Share button, it will ask Enter User mail id and also shows visibility options like can view, can edit, Can Comment Options in drop down Menu. Select Can View Option and click on done
Next click on PDF or word file in top corner of drive we have Get shareable link, next click on that link sharing option is off just on and copy the embed code and place in blogger
In Blogger goto html-><a href="copied code">Display Name</a>
Getting Embed Code for Excel Sheet
Getting embed code for excel having same procedure but someone feel display excel sheet directly for those peoples I will place below procedure
After uploading excel sheet just we have File option in top corner of the drive on that we have publish to the web option->click ->Embed->click on Publish
After click on publishing button it will gives embed source code simply copy the code and paste ion your blogger (paste anywhere in layout or post).
Now it can be viewable to all.
I think this post is helpful to you do you have any doubts about this topic please feel free and comment your doubts and suggestions on below post.
Also Read: How to add PDF or Word and Excel Files in Blogger